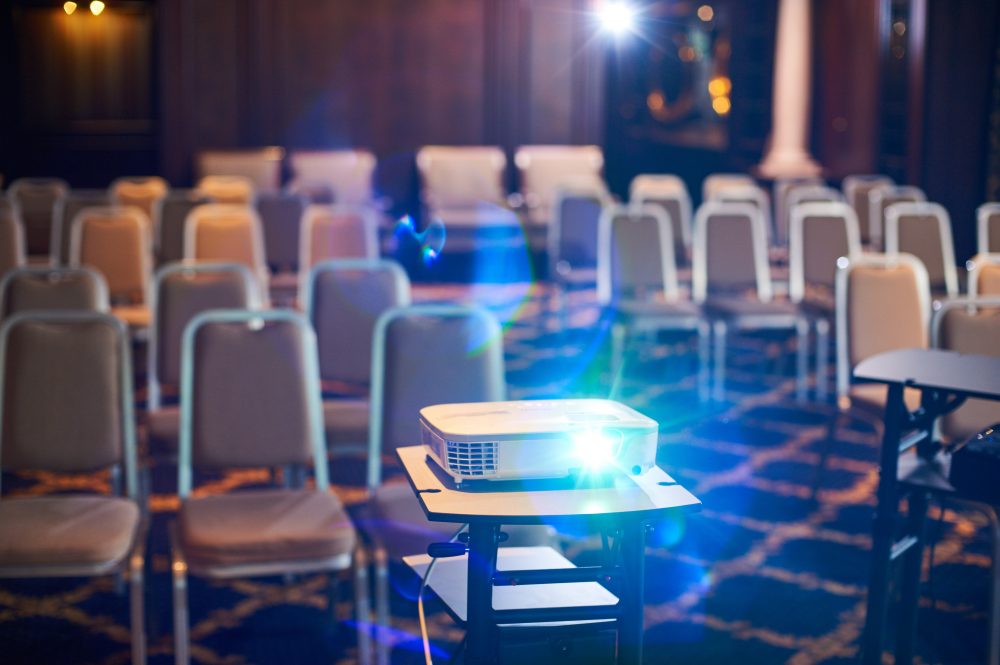 Make your presentations powerful!
From preparation to closing, here are 20 ideas to help you shine.
Airplane
Each slide needs a take-off, a flight, and a landing.  Lead to the point, make the point, then transition to the next slide.
Stories
Make each slide tell a part of the story, using words, graphs and pictures.  You fill in the gaps, engaging the audience in the story. Audiences relate to stories more than facts.
Speed
Click to a new slide every 20-30 seconds. New media (web, social, mobile) are all about fast visuals, and that's what audiences expect.  Keep it moving, unless in discussion.
Understanding
Ask yourself, how long does it take you to get to the point of a slide?  If it's more than 10 to 15 seconds, the audience will lose interest and start texting under the table.
To the Point
Use many more slides than you think will be necessary.  Keep each slide simple. Talk shorter on each one.  Three quick slides are more effective than one long slide.
Small Words
Never use full sentences or periods. Instead, use one and two syllable words in fragments.  Statements work best in ONE line; only go to two if necessary.
Big Font
Use size 32 font and above.  Smaller fonts can't be read easily after a few rows back.  (If you need to put 'fine print' at the bottom as a source of data, use size 18)
Simple font
Always use sans serif font. No little 'feet' on the letters.  Tahoma, Calibri, Verdana, Eras, Demi, and Arial Rounded MT Bold are good choices.  Don't use plain Arial. Never Times Roman.
Pictures
Think in pictures.  Most words can be 'said' in pictures, except for technical terms. Be careful, though, not to make images blurry or warped when changing their size.
Image Placement
Move them around.  Left side on one slide, right side on the next.  Make the next photo the whole slide (but only if it doesn't blur).
Graphs
Got data to present? Put it in a graph. Better yet, enlarge the graph so that it takes up the entire screen.
Real Estate
Use all the real estate on a slide for an important point.  They don't need to see a title on every page, particularly if you are bringing the audience to a crescendo.
Animation
Use animation sparingly, if at all. Use only fast fade ins and outs.  You don't want to distract them wondering how you did that and then miss the point of the slide.
Consistency #1
Changing fonts/colors can make a presentation more exciting, but if done without a design eye, they can become distracting and look sloppy.  Best to stick with a common font and color theme, adjusting sparingly to make a point.
Consistency #2
Vary the font size to emphasize copy, not JUST to change it for the change sake.  Use bolding and colors to make copy stand out.
Consistency #3
Use italics for quotes or to show fast action. Use straight up for name of person giving the quote.
Preparation
A PowerPoint is an aid to your presentation; it is NOT your presentation.  don't read it, present it. Time invested in preparation will substantially improve the result.
WIIFM?
Does every slide answer this for the audience? Make sure each slide has added value to the participants.  Does it show an idea for increasing the ROI, wooing more clients, improving the participants' skillset?
Knowability and Likability
These are real factors that audiences use to tune in or out to your presentation.  Each slide should represent who YOU are – how you think, speak, and act.  the participant needs to identify with you on every slide.
Seek Help
Getting images placed correctly, fonts cleaned up, spacing right, etc. takes some work.  you may not be an expert. Ask!