SPEAKING
Jan Guarantees a "Talk & Awe" Experience
---
0-60 MPH in 3.5″  Is your pitch great out of the gate?
You can't sell, if you can't speak.
You can't persuade, if you can't present.
You can't motivate, if you can't communicate.
Bold speaking determines the success of your business.
4X Emmy Winner Jan Fox says: "If you commit to becoming BOLD speakers, you impact every area of your business."
BOLD Speaker Deliverables:
Refine your company's message
Advance your purpose
Empower your sales team
Increase your ROI
Maximize your influence
Enhance your effectiveness
Clean up your culture
Jan Fox says: "BOLD SPEAKING simply puts you and your people on your proverbial industry map."
Jan's Speaking Topics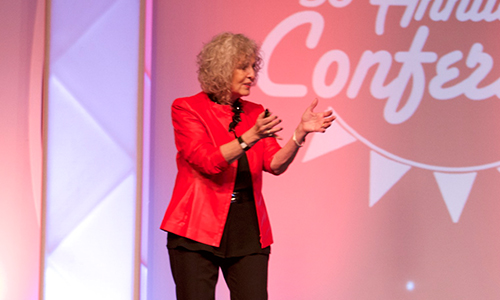 Proof of Performance
Jan's decades of television and speaking experience, plus her BOLD SPEAKER Deliverables, make her the perfect choice to keynote or train at your company.  She's made a difference for Fortune 100s, including Accenture, Marriott, Verizon, IBM, plus many associations: Retail Jewelers Association, American Translators Association, even the Int'l Association of Pet Cemetery and Cremator owners (she only has gold fish!!).
Not Your Average Jan
---
Jan is much more than the average professional speaker. She's committed to an uber-engaging experience that leaves audiences pumped, focused, and ready to be brand ambassadors for your business. Brace up for a new level of buy-in!

Bold Promises - Bold Outcomes
Jan's work transforms your teams into BOLD speakers who lead with power and principle. They motivate their reports and their peers, work better collaboratively, connect with more clients, win more business, advance your company's objectives, and increase your organization's impact and influence.

The Golden Proof
Great stories win golden statues - as in 4 Emmys. Her speeches make audiences want to tell great stories, too. She'll show them how in an easy-to-use template. They'll find out how BOLD business stories make your clients want "what THEY had." They close the deal with a lot less work than rattling off a long list of features!

3 "P" Pill: Plan, Prepare, Practice
Success doesn't end with Jan's talk. Participants receive Jan's Minibuk of Speak Tweaks and Practice Plans. She includes 30-day access to online coaching materials, the power point, plus e-mail and phone support. Reduced coaching fees are available. She's giving participants all the BOLD Speakers tools they need to succeed.
I am ready to get
Started.
Life is just one big speech...
and the world is your audience.