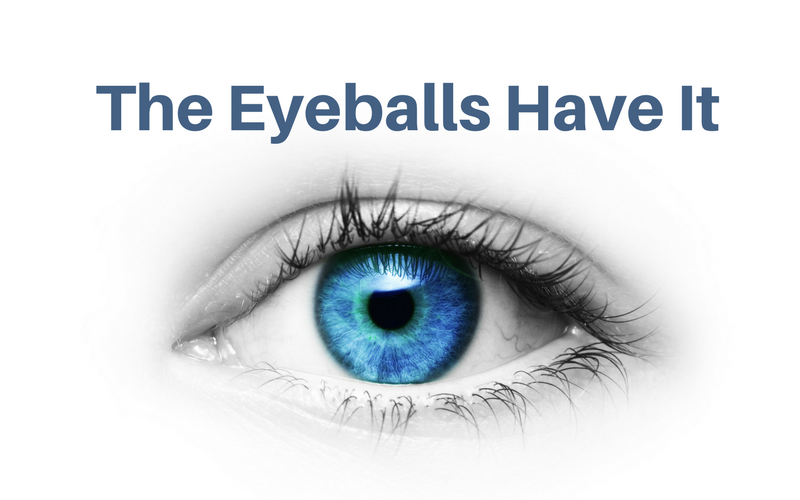 Great storytelling means thinking out your eyeballs!
Every story must answer this question: What will the listeners SEE in their mind's eye when you speak?
Isn't it true that more often than not, you build your talk with words? What if you built your outline around the pictures you want the audience to see in their mind's eye, long after they leave the event?!
Here's why this is important:
Most of us are visual learners.
We have a 67% higher "retainability" rate when we see a picture than when we hear words.
If we can see the picture in our minds, it's easier to put ourselves in the story.
I teach my clients to edit their talks line-by-line for one of 3 aspects:
Does this line or this piece of information use visual imagery?
Does it have emotional impact? Will it move the audience in some way?
Will the audience members be able to see themselves in the line or the story?
"EYEBALL stories", I call them, rather than facts, figures, and long theory explanations, make your talk memorable and impactful. Where do you find these stories? You've already lived them! Eyeball stories come from your experiences: your overcoming moments, your failures, successes, joys, sorrows. They are stories from your childhood, your career, your home. They are your clients' experiences.
Imagine sitting with a new client who is talking about a problem, hesitant to sign on the dotted line. You tell an eyeball story about a former client with a similar problem. You worked together to solve it. Now that client's business is booming – up by 50%!  What does your new client say, "I want that. How can I get that?" Your new client saw him/herself in your story.  That story sold you, not your long list of benefits!
One of my clients is an image consultant. She has developed a fantastic portfolio of programs and a large following of clients. The turning point in her business came, when she wanted to be more compelling as a speaker.
She inspires women to look and feel their best. It turns out she has a deep reason for wanting to spread her message. It's clear from her story that she never heard those words as a child. She now includes a quick snippet of her life in all her talks. It's full of visual imagery, emotional impact, and many openings for the listeners to walk right into the story.
"My goal is to help every woman feel beautiful. I had severe buck teeth. I'm embarrassed to admit it but I sucked my thumb until I was 16. In first grade, I chewed the buttons off my blouse. The school counselor told my parents I was mentally retarded. I was pigeon toed and had to wear heavy braces on my shoes. Needless to say, I was bullied and mocked. You see, I had many very clear messages that I was ugly and unlovable. My life's purpose is to make sure no woman is ever made to feel like that again."
That story creates palpable feelings of empathy and trust in the audience. She always has a very long line of people waiting to speak with her after her talk – women and men!
Imagine how many people identify with her. Where will they go when they want to upgrade their image?
What stories can you tell that lets the group SEE why you do what you do? It only took my client 7 lines, not a long sales pitch! That's an eyeball story!