MEETING PLANNERS
"You exceeded our expectations. You are the best speaker we have ever had at our event!" Fred Diamond, Institute for Excellence in Sales
---
US Supreme Court: Make a BOLD statement with your conference!
Jan is a meeting planner's dream:
Couldn't be easier to work with – a 10!
Comes well prepared and customized.
Delivers immediately actionable and memorable messages – including a live lobster and Good Karmals!
"I never thought you could turn that group around, but in two days of storytelling, they became cheerleaders for each other! Their support for each other continues today." Jordan Heichel, Sr. Project Manager, IBM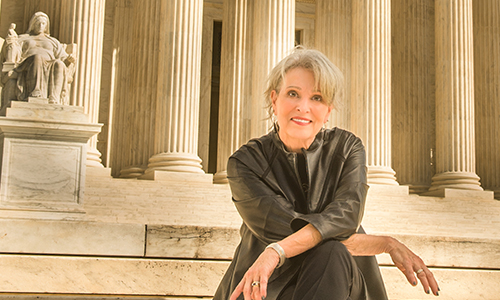 Makes you, the meeting planner, look "on top of it"
Gives your audience action plans and doable ideas
Learns about your company and your specific goals for the meeting
Brings plenty of laughter, emotional pull, and visual imagery
Sets up many Uber-interactive moments for the participants
Sends out new BOLD SPEAKERS to deliver your powerful purpose and mission
Meeting Planning Logistics
Flies from Reagan National, Washington, DC; BWI, Baltimore, or IAD Dulles, VA Southwest Airlines – just fine
Coach – OK
Hotel, food per diem, and ground transportation covered by client, please
Prefer booking travel and hotel on your master account to avoid expense reimbursement
Wireless lavaliere, plus 1 hand mic. If possible
Projector with audio capability for embedded videos
***Small table up front for Jan's computer – will take longer cable run than typical lectern hook-up***
No Lectern, or pushed to the far back corner, please
Small table up front for props
Table for book sales, if possible
Quick Downloads
If this is what you want for your conference, book Jan:
"The feedback from our Renaissance members was the 9s & 10s across the board…so terrific!"
-Lee Self, Renaissance Forum Director
Not Your Run-of-the-Mill Speaker
---
Jan's clients tell you exactly what you will get from her speeches and training sessions.

Concrete Tools
"The Retail Jewelers Org.extend a well-deserved recommendation to Jan Fox for the keynote presentation. Our attendees found the program provided concrete tools to implement upon their return; she actively engaged participants through her story-telling and encouraged them to utilize the information she shared. Ms. Fox's presentation was incredibly relevant." Sara Streb Chief Operations. RJO

Encouragement and Inspiration
致简:听了您的热情洋溢的专业演讲,我倍感触动,深受鼓舞,也因此平生第一次接受了一位教授的一场关于翻译和本地化知识的公共演讲邀请。您的演讲真是太有用啦!向您致以诚挚的感谢! 丁丽 深圳市新宇智慧科技有限公司董事长
"I'm really impressed by your inspiring, passionate, and professional speech. It encouraged me to accept, for the first time, the invitation by a university professor to make a public speaking for his students." Elisha Ding, Global Wisdom Language Solution

Team Building, Comfort Zone Stretching
"Jan did a wonderful job training about 15 employees on public speaking. We wanted her to help a group of "introverted finance professionals" be better prepared to perform training sessions (mostly on PeopleSoft topics) to other Brookings employees. Jan's message was clear and her method to get these people of of their comfort zone was spot on. We have received very positive feedback from those who attended the two full-day sessions." David L. Porter, CPA, Associate V.P., Controller & Assistant Treasurer, Brookings Institution
I am ready to get
Started.