Coaching
Sharpen your Speakability
---
Library of Congress: Will your BOLD speeches stand the test of time?
Imagining the audience in their underwear only goes so far.
Jan's speaker coaching cures your dread of public speaking.
Your failure to communicate won't hold you back anymore.
You'll know what to say and how to say it.
You watch!  People will start listening every time you open your mouth to speak!
BOLD Coaching Deliverables:
Shows you how to speak up anytime, anywhere
Teaches you how to give status reports to superiors
Trains you to sharpen your sales pitch all the way to the close
Shows you how to plan a TEDx talk
Demonstrates how to use simple mind shifts to help you get over your jitters
Helps find your stories and coaches you to make you memorable
Jan understands that you don't need a complete overhaul to become a BOLD successful speaker. She has coached hundreds of people to get over 'the hump' – the fear of public speaking.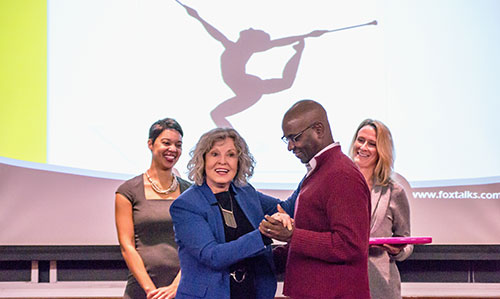 Learn how to assess where you stand on the speaker spectrum
Find out how to make your style match your substance
Discover how to create a spirited speech from concept to rousing conclusion
Practice how to use storytelling for high impact
Understand how to ACE the TEDx stage
Learn how to think out your "eyeballs" with metaphors, emotions and imagery
Find out how to know if you are on-target for your audience. Use Jan's Speaker Checklist
Proof of Performance
Jan has coached dozens of TEDx speakers, hundreds of CEOs, executives, emerging leaders, and entrepreneurs to create speeches that meet their personal and industry goals.  She helped them find the BOLD speaker inside – the one they never knew they had.  She'll do the same for you.  Your message and purpose will go out to the world.  You'll see your impact and influence soar.
Not Your Daddy's Speaker Training
---
For once, a coach who listens to you! Jan's speaking packages evaluate your needs and turn you into a BOLD Speaker. She guarantees quick results. No cookie cutter approach here – just high-impact coaching that's personalized to you. You will walk out a BOLD Speaker!

Small Tips for Big Impact
Cure the "umms" and "errrs" once and for all. Find out where your eyes should really look. Work the room like a pro. Stop "stall language" that puts your audience to sleep. Don't fight your hands. Make them work for you. Find out how to stop drooling your punch lines on your shoes.

Customized Coaching Your Way
Jan works in packages of three - seven sessions. Short on time? Opt for a Cram Day for speaker immersion! You want to bring a friend or family member? No problem – customized small group coaching, Skype and phone sessions available. Quick results!

Stories: Make Them Laugh, Feel & Think
Learn to tell short, powerful stories in 5-8 sentences. Really! Find out which fluff to cut to make your stories have bigger impact! Discover how to edit each line for emotional punch or visual imagery. Design stories specifically to sell more products and services.
I am ready to get
Started.
Life is just one big speech...
and the world is your audience.